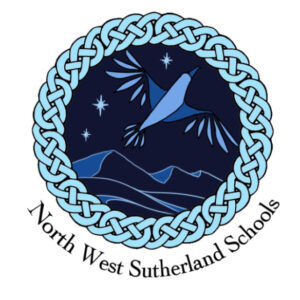 Here is the new logo for North West Sutherland Schools.  It was designed by Mia Walker of Durness Primary School.
The logo is a result of a design competition that was launched in November 2018.  Entries were received from all four schools as well as from community members.  A judging panel met at KLB High School in December.
The two finalists were Mia Walker from Durness Primary School and Reuben Breckenridge from Kinlochbervie Primary School. Their designs were  very different.  Mia's design featured a mythical bird flying off into a starry sky while Reuben's design incorporated the 4 logos of the existing schools.  Former pupil Alison MacPherson refined them graphically and they were put to a vote in all 4 schools.  Mia Walker's bird logo won chosen as the new logo.
Congratulations to Mia and runner-up Reuben as well as Alison.  Thank you too to everyone who submitted a design for the competition.