Course Choice Booklet – 2021
Kenya Connecting Classrooms October 2019
Our Facebook Diary
On Sunday 6 October 2019, Ms Lee, Mrs MacDonald, Mrs Robson, Miss Watkins and Rev Andrea Boyes departed for a week visiting Sachangwan Secondary School and Nguzu River Primary School in Kenya.  Their residence for the week is the beautiful home of Madame Fatuma who visited our schools in April.
All photos and videos were originally posted on the North West Sutherland Schools Facebook page.
https://www.facebook.com/North-West-Sutherland-Schools-Group-180318145339577/
Monday 7 October
We've had the warmest welcome imaginable at our Kenyan schools this morning.  We have met most of the classes, only missing out on those who are sitting their exams.   Some classes have over 50 students in one class – more than our entire high school!!!  lots of welcome speeches and greetings.
Sachangwan Secondary School
Our welcome at the high school.
Our welcome at Nguzu River Primary School.
School kitchen, canteen & staff Sachangwan style!!
And more from the kitchen:
Our assemblies & prize givings may never be the same again!!!!
We are getting so many ideas to take home with us!
First day at school finished & what a day it has been! We have been made so welcome by the whole community & were entertained to poetry, song & dance.
Then, this evening, we had a cookery lesson from Madame Fatuma on how to make the traditional Kenyan dish, ugali.
Tuesday 8 October 
After a big breakfast from Madame Fatuma, we walked to school in the morning sunshine, meeting lots of locals along the route.
This morning, Ms Lee, Mrs MacDonald & Rev Andrea will spend the morning observing classes in the primary school, whilst Miss Watkins & Mrs Robson observe classes in the secondary school.
Well, that has been some day! We spent the morning in classrooms & again in the afternoon. Then we attended the pastoral service where bibles were presented to many of the pupils.
Then it was home time for the most amazing welcome reception by Fatuma & her friends! There followed an amazing evening of music, dance, song & conversation with a gathering of over 20 friends & neighbours.
Such a warm, friendly welcome.
Wednesday 9 October
Another warm sunny day!! Weather isn't a huge topic of conversation in Kenya funnily enough!!
This morning we sampled the Kenyan equivalent to porridge for our breakfast. Rev Andrea has gone on some pastoral visits whilst the teachers are back in school, teaching some lessons today!
Today's topic includes children's rights which are the same all over the world!
Great excitement today in Nguzu Primary. A local drinks company came to distribute bottles of juice to each pupil!
Good evening from a rainy Kenya!!
We have had yet another amazing day with our friends here.
Rev Andrea spent the day visiting friends & family of Mr Keitany & family.
The 4 teachers spent the morning in their schools, then were entertained to an amazing cultural event organised by Madame Fatuma & Mr Joseph. We treated to dance, song, music & acting from across 3 local tribes.
Then we had an exciting walk home in the rain!!
And more….
Thursday 10 October
Another fabulous day in Kenya spent on a field trip with pupils & staff from both our schools. We saw tea, rice, coffee & sugar plantations! Then we visited an animal orphanage & saw some lovely animals.
Then home to Madame Fatuma's house. Just to make us really feel at home, there was a power cut!! Back on now though!
Tea Plantation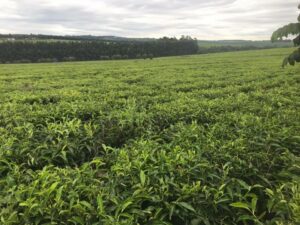 Animal Centre
Friday 11 October
Farewell!
Today we attended an emotional assembly & flag raising ceremony as we said farewell to the staff & pupils of our partner schools. There were many songs & speeches & exchanging of gifts, including engraved slates which will be displayed in all our partner schools in Kenya & Scotland.
We planted trees & met with the project team to discuss ways forward for the connection to develop.
The Scotland team have now travelled to Nairobi where we will rest for the night & gather our thoughts.
HAPPY HOLIDAYS to everyone at home!!